Who we are...
Two well-respected and well-established human care agencies in Nebraska, Lutheran Family Services of Nebraska and Nebraska Children's Home Society, joined together to create Right Turn.  Our collaborative program provides help to families who have adopted or entered into a guardianship.
Right Turn, a statewide program, was established in 2009 in response to some of the post-adoption and guardianship issues that arose from Nebraska´s original Safe Haven law. Intended to protect abandoned infants from being left in unsafe situations, Nebraska's original Safe Haven law allowed children up to age 18 to be left at safe sites without persecution of the parent(s). Of the children dropped off at safe sites across Nebraska, 75% were formerly in Nebraska's foster care system and in adoptive or guardianship homes. Safe Haven made it clear that many adoptive and guardianship families were struggling, frustrated and facing difficult challenges with their children.  They did not know where to turn for help.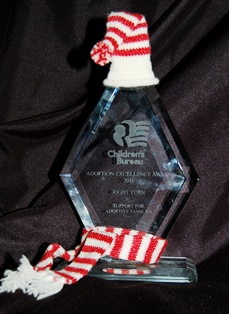 Designed to be a referral service for post-adoptive and guardianship families, Right Turn quickly learned that families needed more. In response, our 6 Core Services were developed and have evolved to include: Permanency Support Services, Respite Care Connections, Parent2Parent Network, Mental Health Connections, Training and Support Groups and Family Activities.
Effective December 1, 2014, Right Turn has expanded and can now serve ALL Nebraska adoptive families - international, domestic infant, private, step-parent and foster adoptive families.
Following the initial growth and response to families' needs, Right Turn received the U.S. Department of Health and Human Services, Administration for Children and Families 2011 Adoption Excellence Award.